Gillam-FEi's IDC20K is a portable device designed to provide high currents with specific waveforms needed to perform di/dt, IMAX, distant fault short circuit testing of switchgear and protective relays used in 600 V to 3 kV DC traction power supplies.
It performs a primary current injection of up to 20 000 A (2 500 A per module) with a low voltage of 7,5 V.
Programmable transient waveforms make it suitable for overcurrent testing as well as for complex time-dependent fault conditions like distant short circuits.
Recharge time is <1 min.
1. INTRODUCTION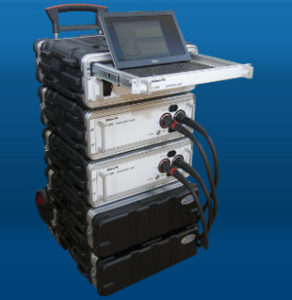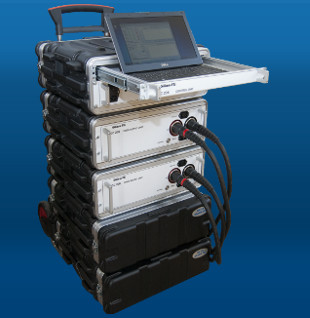 IDC20K is an innovating solution designed to perform routine testing of the DC switchgear and protective relays used in metro and railways electric utilities.
IDC20K performs a primary current injection of up to 20000A with a low voltage of max 7,5V.
Programmable and user-defined transient waveforms make IDC20K suitable for overcurrent testing as well as for complex timedependent fault conditions.
IDC20K is a compact and modular solution that eases portability into switchgear rooms with limited space.
On-site primary injection tests improve switchgears reliability and avoid costly factory calibration.
2. USE
2.1 Circuit breaker calibration
IDC20K allows realizing the preventive maintenance and the calibration of trigger levels for MV circuit breakers (Imax and di/dt thresholds).
2.2 Test of digital protections
Protection relays are tested with their effective operation parameters. The complex acquisition chain (i.e. sensors, cabling and relays) is tested through primary current  injection.
More complex protections (like feeders or catenary protection relays) based on the current dynamic measurement are also validated on site when commissioning as well as during periodic tests.
 3. FUNCTIONALITY
The modular design of the IDC20K is composed of 19″ 3U racks. A maximum current of 20000A is obtained by bridging 8 power modules.
3.1 IJK20 power module
Each power module allows injecting an impulse current of max. 2500A during 500msec. The shape of the impulse is given by the ICK20 control module. The recharge time between each pulse is < 1 minute.
3.2 ICK20 control module
Allows control of up to 8 IJK20 modules. ICK20 generates arbitrary waveforms and monitors the current injection. The user supervises the system with the help of the integrated laptop PC.
3.3 Transportation cases
The equipment is integrated in transportation cases made of thermoformed polyethylene. The mass of each case doesn't exceed 22kg, cables included. Rollers grant you an easy transportation.
4. CHARACTERISTICS
4.1 IJK20 power module
Current Max.

2500 A

Voltage Max.

7,5 V

Pulse duration Max.

1800 msec

Recharge time

< 1 minute

Supply voltage

230 Vac single phase 50 Hz

Power

< 300 Watts per module

Dimensions (LxHxD)

19" rack : 330 x 440 x 134 mm




Transportation case : 559 x 549 x 197 mm

Mass (case included)

16kg + 6kg (cables)

Cables

Flexible cables (95 mm²)Length 3m




Storage integrated in the case
 4.2 ICK20 control module
Controllable modules

Max. of 8 IJK20 modules

Man-Machine Interface

Laptop PC integrated in the rack




Graphical interface running under Windows®

Waveform

Parameter setting




Theoretical template




Pre-recorded (coming from the RLPROTECT




perturbography)




Customized template

Supply voltage

230 Vac single phase 50 Hz

Power consumption

< 300 Watts

Dimensions (LxHxD)

Rack : 330 x 440 x 134 mm




Case : 559 x 549 x 197 mm

Mass

20kg (case and cables included)