Safety LED Traffic Lights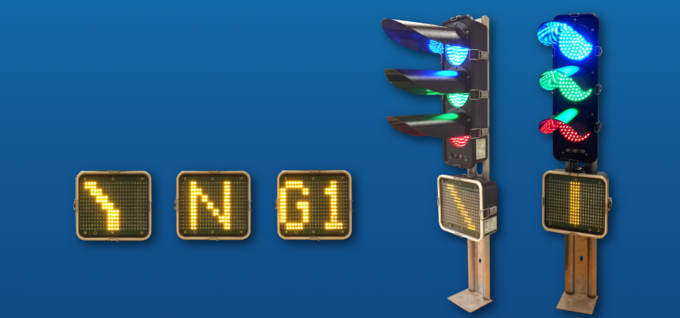 Description
GILLAM provides adapted and reliable LED traffic signals for metro, tram and light rail infrastructure. The TIV/TID model is perfectly adapted for traffic speed regulation and direction indication. A versatile square matrix display allows the indication of up to 14 pre-programmed signs or characters. The 3-COLOURS model has 3 independent coloured signs in a same enclosure for traffic regulation. Fully designed and assembled in Belgium. Customized design available.
Key features
Higher reliability : LED technology offers enhanced life (MTBF > 70,000 hrs) and reduced on-site interventions
Reduced maintenance costs : design optimized for fast and straightforward maintenance :

Tool-free mounting
No specific tool for maintenance and part replacement
Electronic light modules can be replaced separately on-site
« Lamp test » function for on-site verification
LRU replacement time < 5 min.

Designed for safety :

3-colours model offers redundant LED groups to allow indication in degraded mode.
TIV/TID model behaviour is adaptable in case of incoherent command.
Light intensity is settable. Dimming function dependent of ambient daylight.
A constant current consumption allows the remotemonitoring of the traffic light through its power supply.